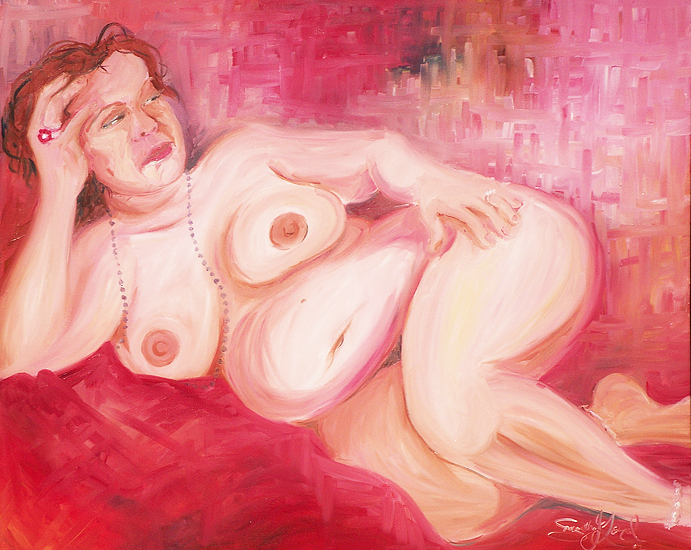 By the Grace – Private Live Commission
120 x 91 cm
oil on 15oz premium canvas
hand stretched on heavy weight bars
Live Commission Painting 2007
Description
Grace Fitzpatrick the client, her comments:
"I commissioned Samantha to paint a nude of me in 1997. It was something I have wanted to do ever since studying art history in high school. While the idea of nude modeling appealed to me, the reality terrified me and I was quite fearful of taking the plunge.
I shared my nude muse dream with Samantha and she encouraged me to be brave and turn it into a reality – so I did.
One day one of the sitting, Sam made me feel so comfortable, relaxed and safe. She positioned the canvas so I could see the work in progress, which in itself was fascinating. She worked with me to get the look, colours and feel that I wanted. I didn't want photo-realism as I would have found that too confronting. I had been to several of Samantha's exhibitions and like her animated depiction of people. I wanted something raw that captured my essence, rather than something that looked like a painted photo of me.
Samantha did this beautifully. She expressed my curvaceous body with love and beauty and captured the essence of me. I was thrilled with the results. The experience of posing as a nude muse is one I will always remember and treasure… and I have the nude hanging in my bedroom to remind me of my courage." August 27, 2011
Top qualities: Great Results, High Integrity, Creative