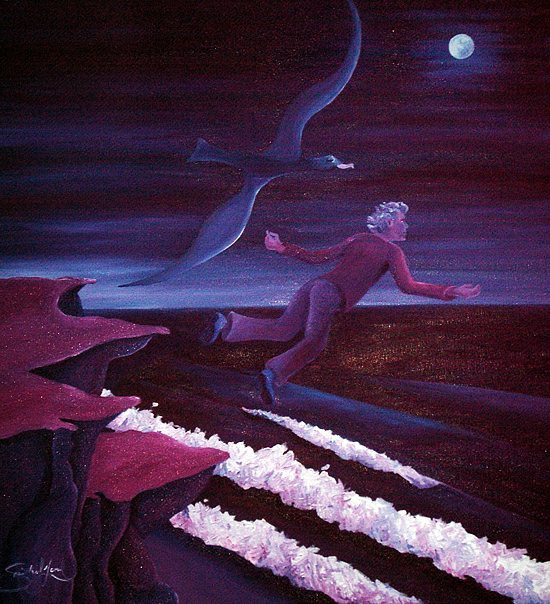 The Albatross & Me – Commission
61 x 71 cm
oil on 15oz premium canvas
hand stretched on light weight bars
Commissioned 2009
Description
Based on a Poem by Geoff Denning.
THE ALBATROSS AND ME
Last night l dreamt that l could fly, it was a gift from heaven
I launched myself from off the edge of cliff 'bove crashing surf
I dared not look beneath my feet but took a mighty breath
And spread my arms from side to side and flapped them like a bird.
At first I trembled, could not think, my mind was numb with fear
But as I fell toward the waves I caught a gust of wind
And rose, I did, above that surf and land around the coast
I swooped and soared to dizzy heights which only birds could know.
In deepest dream which was so clear I ran the wind way south
Like albatross that follows boat I saw the icebergs float
I rounded pole on wings of dawn and saw the sunrise glow
Then chased the waves 'neath southern skies till I again found home
I landed on my feet in grass and gave a mighty sigh
The man who never left the earth in dream that night did fly.
Oh pretty bird, the albatross, though clumsy on the earth
Can flap its wings and fly to lands which humans do in jets
Not I, in dreams, for if I wish upon a star at night
Can rise from bed and through the open window start my flight.
You think me fool who read this rhyme, but fool no longer l
For l believe that if you will you too can learn to fly
So dream a while beside my sleep and journey into night
And l will show you how to fly above your world of fright.
The albatross is watching now through window while l sleep
I cannot see him but l know he's out there calling me.
Come, come with me, l'll hold your hand, and balance on the ledge
We'll shut our eyes and dream as one and venture into night
The night of death, the night of woe, the night when dark clouds drift
By crack of moon and breeze which chills, the albatross our friend.
Come, balance with me on the edge of window or by cliff
And give yourself as l will do and lean into th' abyss
Take breath, don't fear, the albatross will come when we descend
And we will flap our wings as one and rise above the rest.
Sweet albatross, the mariner's friend, and friend of all who fly
A boy that dreamt when young, now old, can still believe and fly
As l approach the flight of death which day will come too soon
Please take me in your wings above so l can be with you
Above the sky, above the sea, above the world I knew
And if in box they lay me low a thousand years and more
I'll soar in spirit with that bird the albatross once more.
Geoffrey Denning (2004)